China data surprises to preserve stocks rally
Stocks have continued to inch higher today as Chinese export data comes in much better than expected. European markets are firmer a few tenths either side of 1% and their US counterparts up a little more with the Nasdaq breaking back through the 9000 mark and into positive territory for the year. Markets had been expecting Beijing to announce a 15.1% fall in exports, to add to the miserable economic data that has seemed to trickle through during the pandemic, but we got a surprise when the figure actually came out with a 3.5% gain year on year.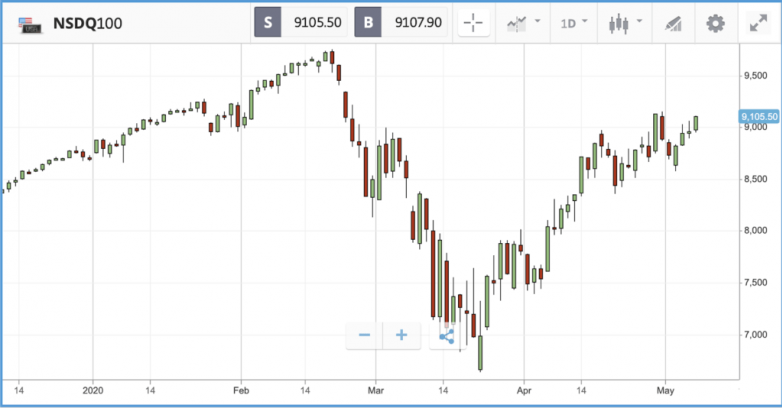 Yesterday, Lyft announced on its quarterly earnings call that it is cutting 17% of its workforce, which was followed by reports that Uber is cutting a similar proportion of its staff. Lyft reported a loss of almost $400m on revenue of $956m for the first quarter of 2020. Lyft CEO Logan Green said that the pandemic has had a "profound impact" on the business, and that rides in the month of April were down more than 75% versus the same month last year. For the quarter as a whole, Lyft still made gains in rider numbers versus Q1 2019 — and both the loss and revenue figures were better than expected. The job cuts at Lyft amount to around 1,000 people, and are accompanied by other measures including trimming salaries and furloughing employees, with another cost cutting update coming with the next two weeks. That, combined with the announced cost cutting measures, sent the firm's share price soaring more than 15% in late trading. Uber stock also jumped more than 7% in late trading, ahead of its own earnings report tomorrow.
In economic data, ADP's employment report showed that private payrolls fell by more than 20 million in April, with the biggest job losses coming from the services and hospitality sectors, plus trade, transportation, utilities and construction. The figure blows the previous record, 834,665 in February 2009, out of the water.
Mixed bag for US stocks
The major US stock indices posted a mixed day on Wednesday, with the Nasdaq Composite leading the way. The tech heavy index posted a 0.5% gain, on the back of a 19.6% jump in MercadoLibre stock and a 6.3% pop for Activision Blizzard. Latin American e-commerce business MercardoLibre's rally came on the back of a solid first quarter earnings report despite the pandemic. The firm has been a beneficiary of consumers turning to online shopping options, and Q1 net revenues jumped almost 40% year-over-year. Video game giant Activision Blizzard, the company behind the hugely successful Call of Duty series, rose on the back of strong Q1 results boosted by consumers stuck at home turning to games for entertainment. While the Nasdaq made gains, the Dow Jones Industrial Average fell 0.9%, dragged lower by firms including Dow, American Express, Chevron and Boeing. In the S&P 500, which fell 0.7%, Occidental Petroleum was the biggest loser, after reporting its Q1 2020 earnings figures. The stock closed 12.5% down, thanks to substantial Q1 losses, writing down the value of assets, and a potential debt crunch looming.
S&P 500: -0.7% Wednesday, -11.8% YTD
Dow Jones Industrial Average: -0.9% Wednesday, -17.1% YTD
Nasdaq Composite: 0.5% Wednesday, -1.3% YTD
Ocado leads FTSE 100 despite bonus controversy
London-listed stocks posted modest gains on Wednesday, with FTSE 250's 0.7% daily increase outpacing the FTSE 100, although the small and mid-cap 250 still lags behind its large cap counterpart year-to-date. The share price of online grocer Ocado soared 5.6%, despite a shareholder revolt over an GBP88m bonus for its directors. Ocado was the top performing stock in the FTSE 100, and was joined in the top 10 by pharmaceutical and insurance names. Hikma Pharmaceuticals, for instance, gained 5.2%; the firm has seen sales of some products boosted by the current pandemic, and this week invested in health tech firm Altoida through its venture capital arm.
Education publisher Pearson was the biggest loser in the FTSE 100 for the day, closing 8.2% down. Again, insurers featured heavily among the biggest winners in the FTSE 250 on Wednesday, with Hiscox jumping 9.6%, and Direct Line 4.5%.
FTSE 100: 0.1% Wednesday, -22.4% YTD
FTSE 250: 0.7% Wednesday, -27% YTD
What to watch
Bristol-Myers Squibb: Unlike most pharmaceutical firms, Covid-19 may not be the biggest focus of Bristol-Myers' Q1 earnings report today. Yesterday, the firm said that the US Food and Drug Administration had extended a review into the firm's experimental blood cancer therapy by three months. The additional review was triggered by the company submitting supplementary information to the regulator, which it said was a major amendment to its plans for marketing the treatment. Bristol-Myers acquired the therapy as part of its $74bn acquisition of rival Celgene Corp, the terms of which state that Celgene investors are entitled to a payment of $9 a share if three treatments in development receive approvals. Currently, nine Wall Street analysts rate the stock as a buy, one as an overweight, and six as a hold, with no sell ratings.
Uber: Investors will be watching Uber's results closely today, after Lyft's better-than-expected loss figure, which was accompanied by a dire picture of demand for its services in April. More details on cost cutting measures should be expected, and significant attention will be paid to how big a setback the disruption is to the firm's mission to attain profitability. Uber, along with Lyft, is also entering the second quarter facing down a lawsuit from the state of California regarding how it categorises its workers. Expectations for Uber's Q1 2020 loss per share figure have slumped from -$0.63 three months ago to -$0.84 now. Uber stock is down 24.4% year-to-date.
Booking Holdings: Online travel firm Booking Holdings sits behind websites including Kayak.com, Booking.com and OpenTable. It has found itself at the front line of the Covid-19 pandemic, with travel, hotel and restaurant booking demand having dropped off a cliff. The firm's share price is down 32.9% as a result, worse than the broader market but significantly better than airlines which face much greater costs from being unable to operate. Booking Holdings reports its Q1 earnings today. Expectations have cratered in recent months, with analysts predicting an earnings per share figure of $5.61, versus the $12.22 they had been expecting for Q1 three months ago.
Close to 500 US-listed companies report earnings on Thursday, with more than 50 that have a market cap of over $10bn. Other stocks to watch include Anheuser-busch Inbev, Fiserv, Raytheon Technologies, Monster Beverage and Roku.
Crypto corner: One Chinese region accounts for a third of Bitcoin's hash rate
More than half of China's Bitcoin hash power, which measures computer processing in the network, has been found to be within one region of China — Xinjiang — according to a study from Cambridge University's Centre for Alternative Finance. China on the whole accounts for 65.08% of the globe's Bitcoin hashing power, with the US (7.24%) and Russia (6.9%) far behind.
Cambridge AltFi says it's the first to be able to map Bitcoin's computational power, gathering data from mining pools ViaBTC, Poolin, and BTC.com, according to CoinTelegraph.
The news comes as Bitcoin's value marches steadily upwards on course to halving, peaking yesterday at $9,418. Ethereum and XRP both dropped overnight to lows of $196.82 and $0.2086 respectively, before picking back up in early trading this morning.
eToro (UK) Ltd is authorized and regulated by the Financial Conduct Authority. eToro (Europe) Ltd is authorized and regulated by the Cyprus Securities and Exchange Commission. eToro AUS Capital Pty Ltd. is regulated by the Australian Securities and Investments Commission, ABN 66 612 791 803, AFSL 491139.
This is a marketing communication and should not be taken as investment advice, personal recommendation, or an offer of, or solicitation to buy or sell, any financial instruments. This material has been prepared without having regard to any particular investment objectives or financial situation, and has not been prepared in accordance with the legal and regulatory requirements to promote independent research. Any references to past performance of a financial instrument, index or a packaged investment product are not, and should not be taken as, a reliable indicator of future results. eToro makes no representation and assumes no liability as to the accuracy or completeness of the content of this publication, which has been prepared utilizing publicly-available information.
eToro is a multi-asset platform which offers both investing in stocks and cryptoassets, as well as trading CFDs.
CFDs are complex instruments and come with a high risk of losing money rapidly due to leverage. 75% of retail investor accounts lose money when trading CFDs with this provider. You should consider whether you understand how CFDs work, and whether you can afford to take the high risk of losing your money.
Cryptoassets are volatile instruments which can fluctuate widely in a very short timeframe and therefore are not appropriate for all investors. Other than via CFDs, trading cryptoassets is unregulated and therefore is not supervised by any EU regulatory framework. Your capital is at risk.