0 Commission Stocks on eToro Recent Investment Trends
Stock trading became a sizable part of the activity on eToro in 2020. As 0% commission stocks became an integral part of our stock offering, a growing number of eToro users chose to manage their online stock portfolios on the platform. Now, 0% commission stock investment is available in almost every country serviced by eToro.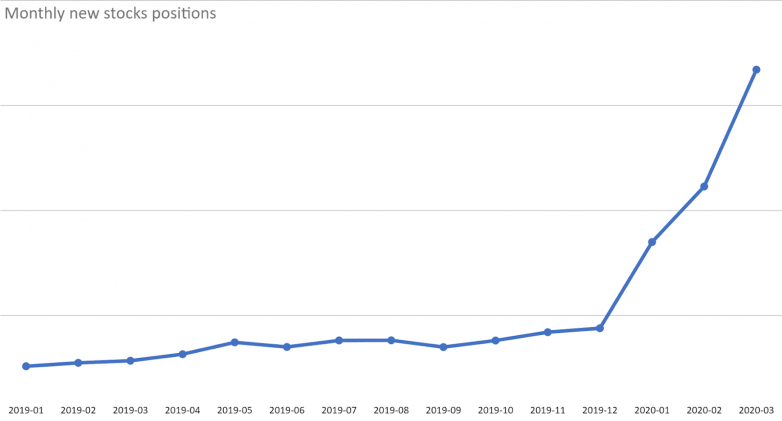 As the graph above shows, stock investment on eToro has grown significantly since we launched 0% commission in May, 2019 and skyrocketed in the first quarter of 2020.
Your capital is at risk.
Stocks Take Centre Stage
In April 2018, eToro first shifted its stock offering in Europe from CFDs to ownership of underlying stock. For the first time in its history, eToro's stock offerings rivalled those offered by mainstream financial institutions, offering stock investment on an intuitive, easy-to-use platform. A year later, eToro introduced zero-commission stocks, sparking a new era in online trading. Now, traders from Europe can own underlying stocks from any global exchanges offered on eToro and users under ASIC regulation can do the same with stocks traded on Wall Street.
Building on Stocks
eToro offers a substantial stock offering with thousands of stocks from 17 global exchanges. eToro's stock offering will continue to grow in the future. Alongside the growth in stock selection, eToro users also began putting a greater emphasis on stock investment, as the number of stock trades on eToro grew sixfold throughout 2019 and Q1, 2020.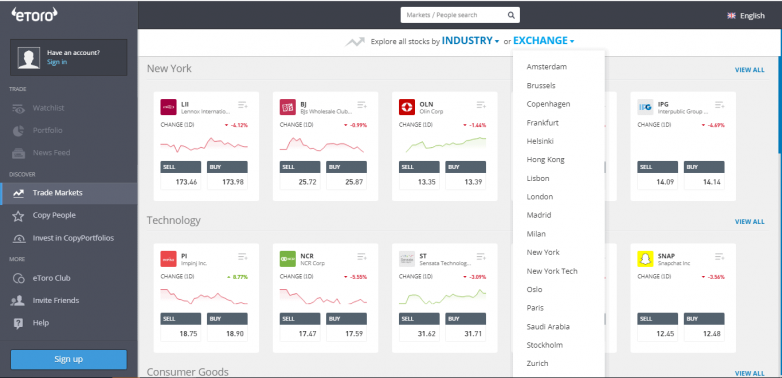 In 2020, stocks became even more prominent, and the coronavirus pandemic led to an exponential increase in stocks traded on the platform. As of Q1 2020, stocks account for nearly a third of all trades carried out on eToro.
Which Stocks are eToro Users Buying?
Stocks have become a major hit on eToro since the introduction of ownership of underlying assets and 0% commission. Naturally, some stocks are more in demand than others. Below, you will find the ranking of the most popular stocks on eToro, since the launch of zero-commission stocks:
Most Traded Stocks on eToro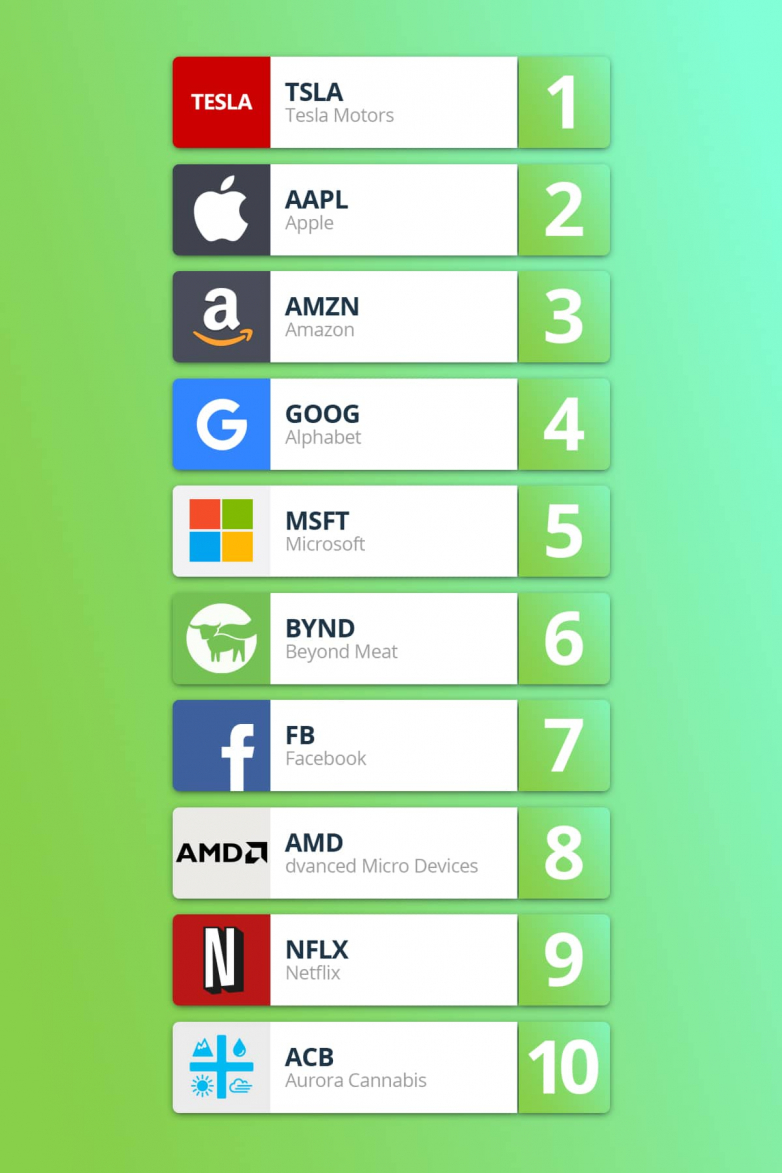 Tesla
Leading the list is this well-known electric carmaker, which between 2019-2020 became the most valuable automotive company in US history. One of the reasons the Tesla stock is so popular on eToro is its high volatility. On the one hand, it is a carmaker, positioning it in the traditional industry sector. On the other, it is a tech company, led by one of the world's most famous and somewhat controversial innovators, Elon Musk. This unique combination of factors, coupled with its overall positive trajectory in recent years, has made the TSLA stock more than twice as popular as the next stock on the list, Apple.
FAANG Stocks
Short for Facebook, Amazon, Apple, Netflix and Google, this group is very popular with tech investors around the world. On eToro, the situation is not very different, as three of the FAANG stocks are in the top five most traded stocks on eToro. Tech has been a very popular sector in markets in recent years, as giants such as Amazon, Apple and Microsoft have become some of the most valuable publicly-traded companies in the world.
Initial Public Offerings (IPOs)
When it comes to trends and hype, many investors buy into initial enthusiasm and invest in freshly offered shares as soon as they hit the market. This is apparent on eToro, as many stocks made the top 10 in the same month in which they were initially offered.
The most prominent example is Beyond Meat. The meat substitute giant went public in July 2019 and has remained in the top 10 on eToro ever since. However, the BYND stock is not alone. Other stocks that made the top 10 in the month of their issuance include NET (CloudFlare, September 2019), UBER (May 2019) and WORK (Slack, June 2019).
Perhaps the most highly anticipated of 2019 was the Saudi Aramco IPO, which took place in December of that year. With an anticipated market capitalisation of $2 trillion at the time, the oil mammoth attracted tremendous attention when it went public. However, the company later suffered massive blows during the oil crash of Spring, 2020.
Volatility is Still Alluring
"If you are not willing to own a stock for 10 years, do not even think about owning it for 10 minutes," Warren Buffett once said. However, that is only true for long-term investors. Short-term traders may look at a certain stock in a similar way they would a currency pair or a commodity — as an opportunity for short-term gain. Furthermore, the heightened volatility generated by the coronavirus also garnered the notion that some stocks are now being offered at a significant discount, appealing to long-term investors.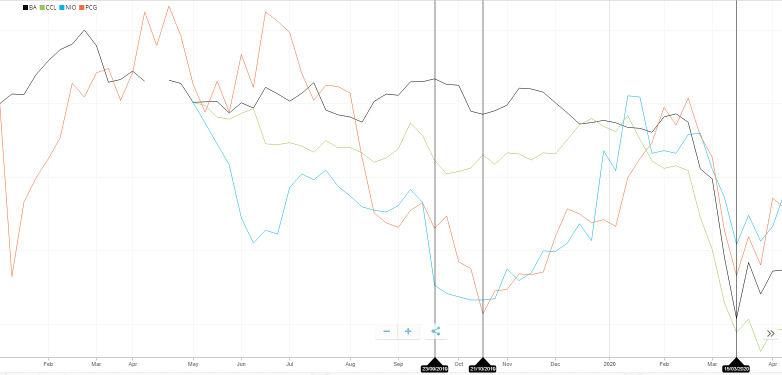 Boeing is a prime example of a stock that displayed much volatility and generated interest. The aviation giant initially crashed when the coronavirus crisis hit, due to the many losses suffered in the travel industry. Later, the company announced that it was resuming production, reminding investors that its client base comprises more than just commercial airlines, resulting in its stock climbing again. Another example of a travel-related stock that showed significant volatility is Carnival Corporation, which fell to a 27-year low on April 14th, 2020.
However, not all volatility is connected to the coronavirus pandemic. For example, Nio, a Chinese electric carmaker bottomed out in September 2019 and since then, went up and down several times, becoming an alluring option for short-term traders. Another example is energy firm PG&E, which displayed a similar pattern after bottoming out in October of the same year.
Buying Local
While the majority of stocks that are popular globally come from Wall Street, when looking at local statistics, it is obvious that many investors prefer buying "close to home." In France, for example, five of the top ten most traded stocks over the past two months were local, such as automotive giant Renault and pharma company Sanofi.
Top 10 Most Traded Stocks by French Investors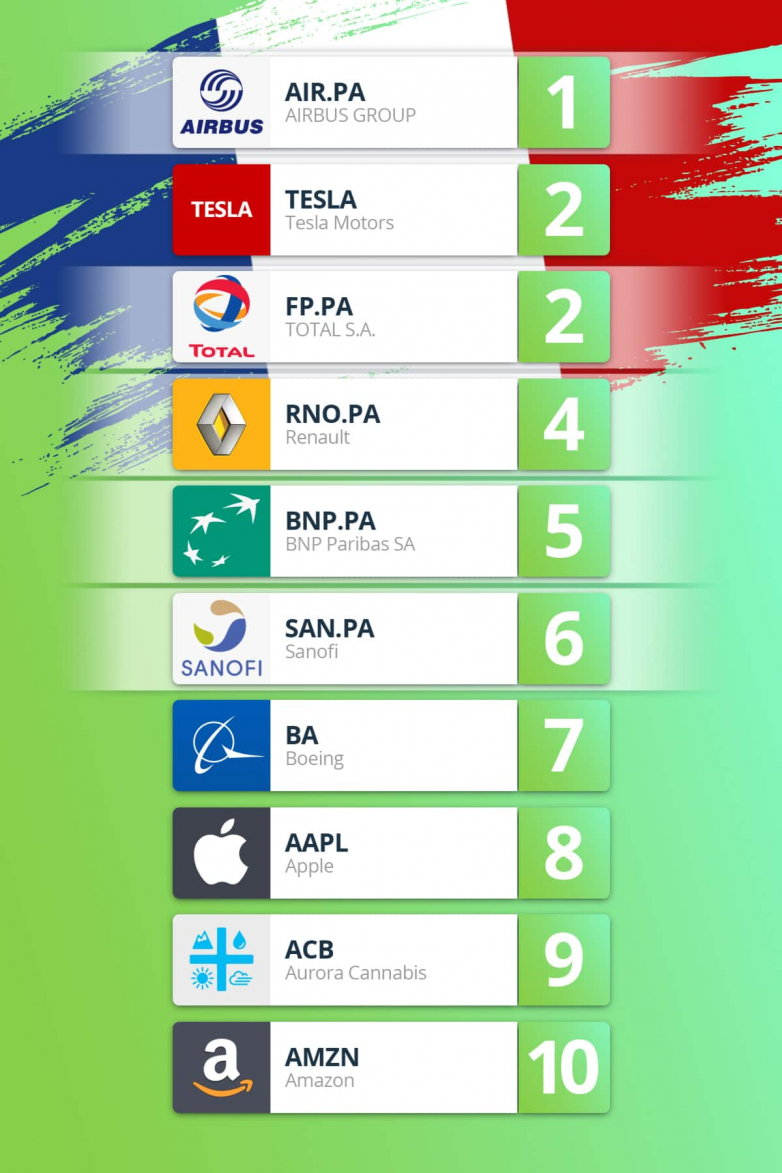 In Germany, the situation is similar, as five of the top 10 are local stocks. Deutsche Lufthansa is the most-traded local stock in the country, followed by automotive giants Daimler and Volkswagen. Pharma giant Bayer and financial institution Commerzbank are a bit further down the list.
Top 10 Most Traded Stocks by German Investors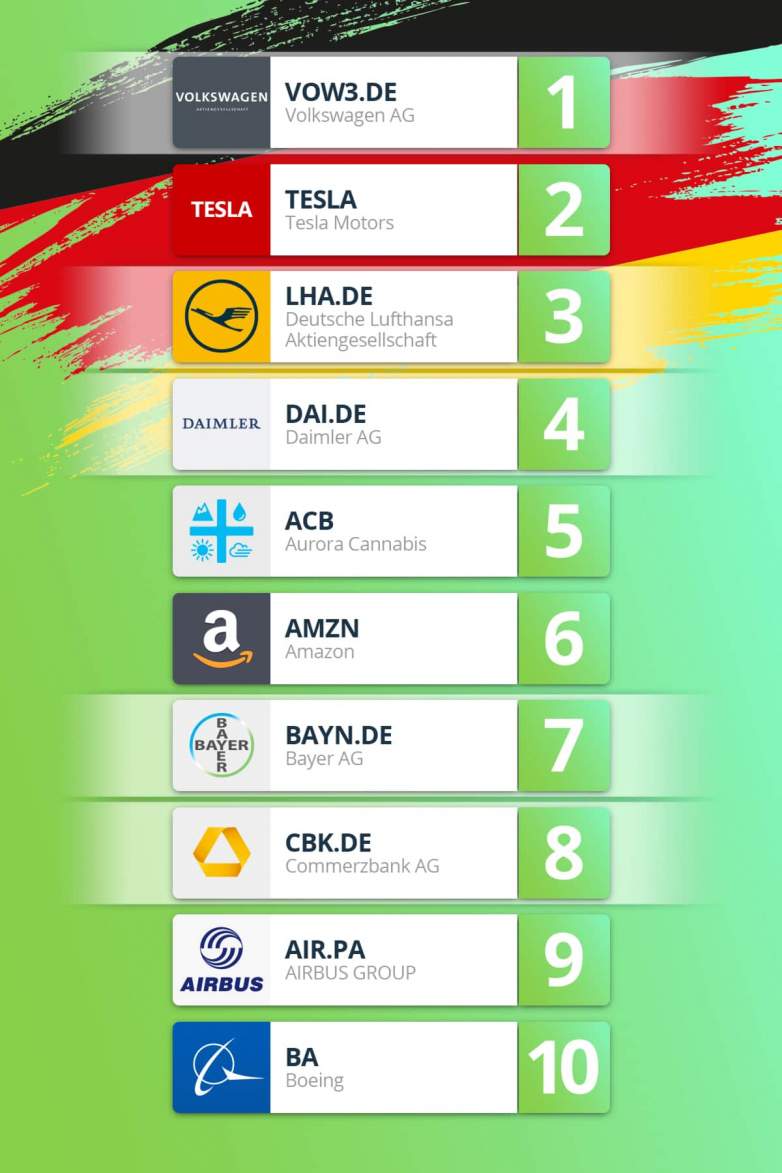 The Future of Stock on eToro
With the launch of zero-commission stocks and ownership of underlying assets in ASIC-regulated countries, eToro is expanding to another important territory and breaking down barriers for more people around the world. Now, eToro offers ownership of stocks with no commission to clients in every country which it services, excluding the US. For ASIC-regulated countries, eToro offers ownership of underlying stocks traded on Wall Street.
In the near future, eToro will continue to add more shares from various exchanges around the world, including the Australian Securities Exchange. Furthermore, eToro will continue to introduce new tools and offer insights to its users through its numerous social channels, blogs, podcasts, the platform's social news feed and many others. eToro will continue to remove barriers and fulfill its promise of promoting financial inclusion and financial literacy anywhere in the world.
Zero-commission means that no broker fee will be charged when opening or closing the position and does not apply to short or leveraged positions. Other fees may apply. Your capital is at risk.
For clients of eToro AUS Capital Pty Ltd. AFSL 491139, only stocks traded on US stock exchanges are available to trade with no commission. Other stocks are offered as derivatives and bear commission. Offered through ARSN 637 489 466 and promoted by eToro Australia Pty Ltd. CAR 001281634. For additional information, click here.