Dow holds above 25,000, but USChina spat looms
Stock markets around the world soared yesterday and US stock futures were trading higher overnight, driven by continued optimism around economies in many regions of the world reopening. The Dow Jones Industrial Average closed above the 25,000 point mark after gaining 2.2%, back to where it was in early March, driven by financial and industrial names.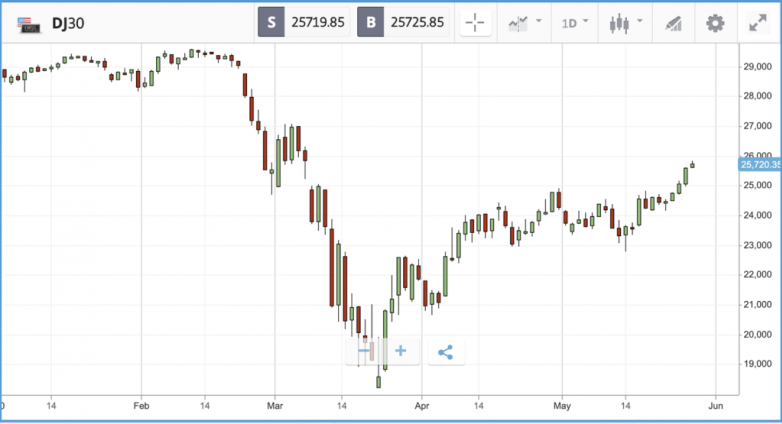 Investors are looking to data showing the return of demand for travel, restaurant outings and other consumer categories. For example, while the number of passengers passing through transport security checkpoints in the US on May 24 was 87% lower than a year earlier, it was more than triple the figure on April 14. Investors are also anticipating more economic stimulus to come in the US and Europe, with the European Union revealing a 750 billion euro plan yesterday after months of negotiations. There are still reasons for caution, however, with all 50 US states in some form of reopening, there are now 17 where the number of coronavirus cases are rising once again.
Tensions between the US and China have reared their head again, too. On Wednesday, Secretary of State Mike Pompeo said that the US no longer considers Hong Kong to be autonomous from China, threatening its special trading status. This could impact its role as a global financial hub.
All 12 S&P 500 sectors in the green on Wednesday
All 12 sectors of the S&P 500 were in the green yesterday, with the index closing up 1.5% overall, helped by the financial, industrial and real estate sectors. Consumer finance names and banks were among the day's biggest winners, with the sub-sectors gaining 8.2% and 6.7% respectively. Similar to other recent positive days driven by optimistic economic sentiment, the individual names hardest hit by the prolonged shutdown (travel and retail) rose fastest — although most still lag well behind the broader market. Retailers Gap, Nordstrom and Kohl's led the S&P, with all posting double digit gains, although all three remain down more than 40% year-to-date. In the Dow Jones Industrial Average, which gained 2.2%, finance giants American Express, Goldman Sachs and JPMorgan closed the day on top, with each gaining more than 5%.
In earnings news, HP Inc enjoyed a mixed quarterly report, as while computer sales were up driven by mass working from home, revenue fell 11% year-over-year thanks to a heavy decline in printer sales. HP stock fell more than 5% in late trading after the report.
S&P 500: 1.5% Wednesday, -6% YTD
Dow Jones Industrial: 2.2% Wednesday, -10.5% YTD
Nasdaq Composite: 0.8% YTD, 4.9% YTD
FTSE 100 out of bear market territory but UK stocks still lag
Both the FTSE 100 and FTSE 250 gained more than 1% on Wednesday, with London listed stocks riding the broader wave of optimism around lockdowns being eased, and investors similarly choosing to ignore growing US-China tensions. Turnaround specialist Melrose Industries and investment firm M&G were among the FTSE 100 names to deliver double digit gains, joined by aerospace names Meggitt and Rolls Royce. Similar to the US, financial stocks and travel names also enjoyed a positive day, with names including Barclays, Royal Bank of Scotland and easyJet all up by more than 5%.
UK indices are still lagging well behind their US counterparts in 2020, although the FTSE 100 is now once again technically back out of bear market territory. On Wednesday, the FTSE 250 was led higher by names including airline Tui and luxury sports car maker Aston Martin Lagonda, which closed up 15.6% and 11.9% respectively.
FTSE 100: 1.3% Wednesday, -18.5% YTD
FTSE 250: 1.2% Wednesday, -21.7% YTD
What to watch
Salesforce: Ahead of its Thursday earnings report, Salesforce announced a partnership with Workday yesterday to deliver tools aimed at helping companies reopen safely, which sent Salesforce stock up more than 2% in after-hours trading. Salesforce's share price is up more than 8% in 2020 so far, as the software and services it provides stand to benefit from companies being forced to digitize their operations with their workforces stuck at home. On the firm's earnings call, analysts will likely probe company management on how much of the temporary behavioural shift they expect to stick over the long-term. Currently, Wall Street analysts fall heavily in favour of a buy rating on the stock.
Costco: As with many other grocery stores, Costco found itself on the receiving end of a surge in demand thanks to shoppers stocking up on goods due to the pandemic. Its share price is up 4.1% in 2010 accordingly, and 27.1% over the past 12 months. The firm reports quarterly earnings today post-market close, investors will be watching for whether demand is maintained now that the initial panic has subsided. Analyst expectations for Costco's earnings-per-share figure for the quarter have fallen marginally over the past three months, from $2.01 three months ago to $1.92 now.
Dell Technologies: Following HP, rival PC firm Dell reports its own Q1 earnings today. The company's share price is down roughly in line with the broader market in 2020, but was falling in the run up to the Covid-19 crisis, and is down 31.1% over the past 12 months. Similar to HP, while the firm is likely to be benefiting from increased sales of laptops, monitors and other devices while people are stuck working from home, companies are likely to be pulling back on large investment in technology at their offices or for other projects. Currently, seven Wall Street analysts rate Dell as a buy, two as an overweight and 10 as a hold.
Crypto corner: Ethereum usage hits all-time high
Usage of blockchain platform Ethereum, on which the cryptoasset Ether is founded, has reached an all-time high according to Delphi Digital. The rate of 'gas' used on the platform has reached a record high, which indicates soaring usage of the network.
'Gas' on the Ethereum blockchain is a measure used to price fees. Overall usage has, according to this measure, been rising exponentially since the beginning of 2020. Transaction and smart contract fees are determined by the price of gas and are largely separate from the price of Ether. Despite the all-time high price of gas, the number of transactions on the Ethereum platform is well behind the 2018 high of 1,349,890 transactions reached on January 4, 2018.
Ethereum was up 1.4% in the past 24 hours trading to around $206 early this morning. Elsewhere, Bitcoin was up 3.5% over the past 24 hours to $9167 early today, while XRP was up just 0.66% in 24 hours to around $0.20 this morning.
All data, figures & charts are valid as of 28/05/2020. All trading carries risk. Only risk capital you can afford to lose.