Morgan Stanley CEO upbeat as market awaits Fed announcement
Markets have had a fairly muted open this morning, trickling slightly higher as we await a statement from the Federal Reserve this evening. Given the stimulus provided so far, and the deteriorating economic conditions facing many businesses, whether this support will continue will become clearer tonight when the Fed's 6-month outlook is revealed.
Ahead of its big reveal, James Gorman — CEO of Morgan Stanley and one of the banking industry's most respected leaders — said yesterday that he believes the worst effects of the pandemic on the US economy and labour market have now passed. Gorman said that the bank's loan losses will be lower in Q2 versus Q1, as default rates were "meaningfully better than what you would have expected with unemployment anywhere close to these levels." Gorman defended US banks continuing to pay dividends during the pandemic and said that he sees no reason Morgan Stanley won't restart its share buyback program once there is "enough clarity around the economic outlook." Morgan Stanley's stock has held up better than most of its rivals in 2020, and has surged 31% over the past month, bringing it within touching distance of breakeven for the year. By comparison, JPMorgan stock is still down 21% year-to-date, Wells Fargo 39.4%, Bank of America 20% and Goldman Sachs 5%.
Despite his optimism, Gorman warned that the economy will still need more support from the federal government despite a dramatic market rally and better than anticipated May employment figures.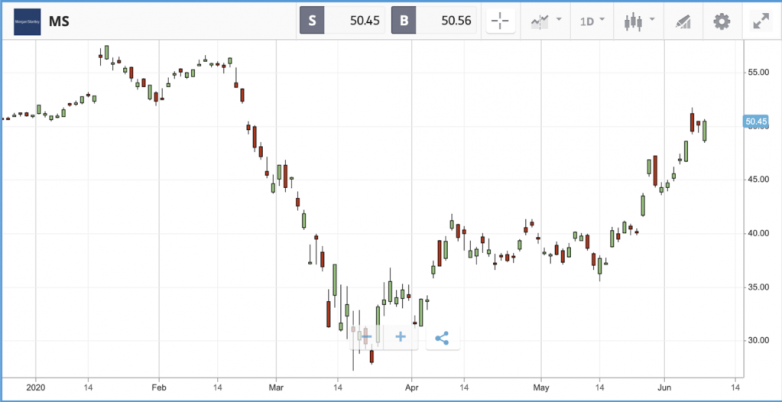 Elsewhere, AstraZeneca has just received a further $23.7 million in US government funding to continue to develop its monoclonal antibody treatment against Covid-19. This second wave of funding should see the treatment move into clinical trials of which the United States has already secured 300 million doses of the experimental drug. AstraZeneca shares have shrugged off the effects of the pandemic so far and are currently up 10% for the year, it took over top spot as the largest company in the FTSE100 by market cap.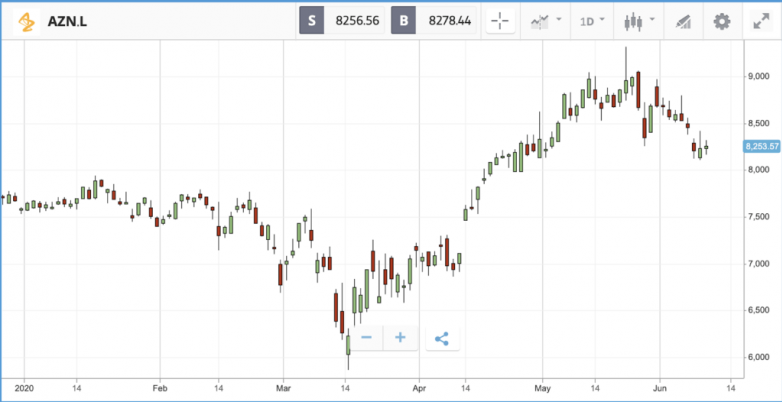 Nasdaq clears 10,000 for first time ever
US stock indices snapped a winning streak that had lasted for over a week on Tuesday, with the S&P 500 falling 0.8% and the Dow Jones Industrial Average closing 1.1% lower. The Nasdaq Composite was still in the green, however, driven by a positive day for information technology stocks. It is now up by close to 11% year-to-date and has surpassed the huge milestone of 10,000 for the first time ever.
In earnings news, online pet supply firm Chewy reported Q1 earnings that included sales growth of 46% year-over-year, and a narrower loss than anticipated. The firm faced high expectations from investors, as its shares have rallied by more than 75% in 2020 so far. Chewy's share price gained 5.6% yesterday ahead of its post-market close earnings announcement but sank back more than 3% in late trading.
In the S&P 500, the biggest losers on Tuesday were electronic component firm Aptiv, Norwegian Cruise Line and oil exploration firm Concho Resources, which all fell by double digits. Aptiv fell after announcing a new share offering, in which it is looking to raise $2bn in capital, split between ordinary shares and preferred shares. At the top of the S&P 500 were some of the nation's biggest tech names, with chipmaker AMD, Netflix, Apple, Facebook and Amazon all closing more than 3% higher.
S&P 500: -0.8% Tuesday, -0.7% YTD
Dow Jones Industrial Average: -1.1% Tuesday, -4.4% YTD
Nasdaq Composite: 0.3% Tuesday, 10.9% YTD
Sharp pullback for UK stocks in face of new data
The FTSE 100 and FTSE 250 sank sharply yesterday, with both indices losing 2.1% apiece, leaving London-listed stocks stuck in correction territory while US shares are creeping past the breakeven point year-to-date.
Investors had multiple data points to digest, including information from the British Retail Consortium showing that retail sales continued to fall in May, although online sales of non-food items jumped 60%. A survey by recruitment firm ManpowerGroup, covering almost 40,000 organisations, found that hiring intentions in the UK are at their weakest level since records began in 1992. More companies are expecting to cut jobs rather than add them in Q3 this year, with the majority not expecting hiring levels to recover until this time next year.
The FTSE 100 was led lower by 5% plus losses from a host of firms, including Rolls Royce, Royal Bank of Scotland and Royal Dutch Shell. In the FTSE 250, the day's biggest losers were energy services company John Wood Group, Provident Financial, and travel firm Stagecoach group, which all sank by more than 8%.
FTSE 100: -2.1% Tuesday, -16% YTD
FTSE 250: -2.1% Tuesday, -18.9% YTD
What to watch
Federal Reserve economic outlook: The most watched event this week will be the Federal Reserve's regularly scheduled meeting on Wednesday, after undertaking massive economic interventions in recent months. The central bank will publish its first economic forecasts in six months, and investors will be hoping for more signs of further stimulus in Fed chairman Jerome Powell's remarks. Any indication that the Fed plans to make interest rate moves in either direction would lead to a major market reaction.
Johnson Matthey: London-listed chemicals firm Johnson Matthey, a FTSE 100 constituent, reports its latest quarterly earnings figures on Thursday. The firm is down 27.2% year-to-date, well behind the broader market, which has pushed its dividend yield close to 4%. In March, the firm announced that it expects to miss expectations this year, in the face of reduced demand for certain product lines and costs incurred due to delayed shipments and logistical challenges. Analysts have a very mixed view of the stock, with seven buy or overweight ratings, six holds and two sells.
US inflation: Also today, US inflation figures will be reported for May, with economists anticipating an annualised rate of 0.2%, down from 0.3% in April.
Crypto corner: Fancy a coke? New Zealanders can now buy cans with Bitcoin
New Zealanders can now buy cans of coke from vending machines using bitcoin as it continues to enter the mainstream financial system.
It comes after a deal between Auckland startup Centrapay, local virtual wallet company Sylo and Coca-Cola Amatil.
Centrapay says 600 vending machines nationwide support the bitcoin payments today, according to reports, allowing anyone to scan the machine with your smartphone after first downloading Sylo's wallet from Apple or Google's app store.
The can is charged at the usual NZ dollar rate, which is then converted to bitcoin with the appropriate amount deducted from your Sylo wallet.
All data, figures & charts are valid as of 10/06/2020. All trading carries risk. Only risk capital you can afford to lose.