FAANGs thrive as US economy drowns
In a big day for tech stock company reporting, Apple, Amazon and Facebook all reported robust profits amid the pandemic, with just Alphabet, owner of Google, reporting a decline in quarterly revenue. The only other FAANG stock, Netflix, was not reporting.
Amazon reported record profits despite spending $4 billion to bolster its logistics network and adjust to the virus conditions. It is now the US's second largest employer with over one million workers. Apple likewise showed an 11% increase in sales despite the pandemic, thanks to strong demand for work-from-home devices. Facebook sales also rose 11% to $18.7 billion, despite itself being at the centre of a storm over abuse on the platform and subject to various advertising boycotts. Alphabet reported a decline in quarterly revenue, for the first time in its history, but sales still beat analyst expectations to book $6 billion in profit.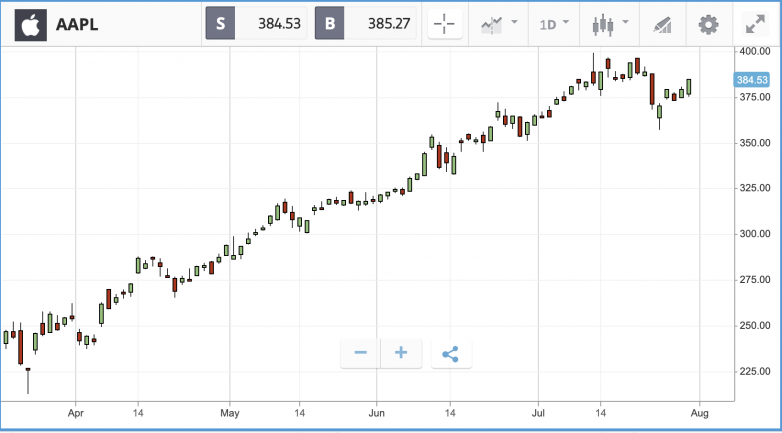 Elsewhere, the US reported its GDP estimate for Q2, with a staggeringly dire reading on its economy showing a 32.9% decline, the worst since records began in 1947. Even at the height of the 2008 financial crisis the worst quarterly decline was only 8.4% by comparison. The data captures the very worst period of lockdown, but the US economy was one of the fastest to begin reopening. With such appalling figures on past activity all eyes will be on the next set to get an idea of how quickly the US economy was able to bounce back. For their part, employment numbers have rebounded faster than would have been expected, so many will be hoping GDP will do the same.
Cool day for markets despite tech stock joy
The three major US indices had slow days on Thursday as US GDP figures weighed heavily on stocks, with the S&P 500 and Dow Jones posting small losses, while the Nasdaq Composite, which is heavily weighted to tech, posted a modest gain. Energy firms led both the S&P 500 and Dow Jones lower, with ExxonMobil posting a 4.9% loss and Chevron down 4.2% in the Dow Jones, while Occidental Petroleum was down 7.4% and ConocoPhillips lost 5.7% in the S&P 500. ConocoPhillips was down on the back of a bad set of results, with oil production reduced by 24% in the second quarter. The firm said it expected to recover most of its lost output by September and CEO Ryan Lance was confident $13 billion in cash would help it survive the crisis.
Winners on the day in the Dow Jones were few and far between. Procter & Gamble was up 2.4% after it posted its biggest yearly sales gain since 2006. Company executives explained the firm's streamlining of product ranges — shedding weaker brands in the process — was the foundation of the strong numbers. But demand for its goods in lockdown no doubt helped, too. The firm makes consumer staples such as Charmin toilet paper and Tide detergent. Toilet paper in particular was subject to major panic buying during the onset of lockdown in March. Other winners in the Dow Jones yesterday included Apple, up 1.2%, and Home Depot, up 0.6%. Apple reported its strong results after trading closed though, as such investor reaction will only feed through today.
S&P 500: -0.4% Thursday, 9.9% YTD
Dow Jones Industrial Average: 0.8%% Thursday, -1% YTD
Nasdaq Composite: 0.4%% Thursday, 30.5%% YTD
FTSE 100 back below 6,000 on struggling banks and US economic woes
Financial firms led the FTSE 100 2.3% lower on Thursday amid profit warnings from Lloyds Bank, the UK's largest retail bank, and jitters caused by dire GDP data from Germany and the US. The FTSE 250 meanwhile was down a more modest 1.3%. Lloyds Bank delivered dire results, its profits wiped out by the need to set aside an extra GBP2.4 billion to prepare for loan defaults caused by the crisis. Figures from the Office for National Statistics in the UK also didn't help matters, showing England to have the worst coronavirus death rate in Europe.
Lloyds led the losses, down 7.6% on the day, followed by Standard Chartered, down 6.2%, and Legal & General, down 6.1%. Defying the trend on the day, however, was BAE Systems, up 5.9% on the news that coronavirus had only made a small dent in its profits. Rentokil Initial, up 1.7%, and AstraZeneca, up 1.6%, were also modest gainers.
FTSE 100: -2.3% Thursday, -20.6% YTD
FTSE 250: -1.3% Thursday, -22.2% YTD
What to watch
Oil giants: Both ExxonMobil and Chevron Corporation report their latest results on Friday. While the oil price measure of West Texas Intermediate has recovered somewhat since April's staggering lows, analysts expect exploration and production activities of oil firms to be down massively thanks to the coronavirus crisis. However, investors will be on the lookout in the results for signs of an uptick in activity as a hint that some form of 'normality' is being restored. ExxonMobil just days ago announced the discovery of fresh oil reservoirs off the coast of Guyana, which could help to reassure investors. Analysts are still ambivalent though, with just three suggesting a buy rating, while 19 recommending hold and four rate the stock a sell.
HSBC: One of the UK's big four banks, HSBC, reports its interim results on Monday 3 August. The bank is perhaps less exposed to troubles in the UK as much of its activities occur in Asia rather than Europe. However, the bank has been caught in the middle of the battle for rights for Hong Kong citizens. As the Chinese government imposed a new national security law, HSBC drew widespread criticism for its backing of the law. Analysts expect HSBC, like Lloyds Bank, to announce significant loan loss provisions for the second quarter to cover debt defaults caused by coronavirus, which is likely to dampen investor sentiment.
All data, figures & charts are valid as of 31/07/2020. All trading carries risk. Only risk capital you can afford to lose.