Tesla and Apple soar after stock splits
Both Tesla and Apple enjoyed major share price bumps yesterday after splitting their stock to bring the dollar value of their share prices down. Investors piled in, in anticipation that single shares being available at a lower entry point will encourage more people to invest – although fractional share trading is now widely available in the US and Europe. Tesla finished the day 12.6% higher, while Apple was up 3.4%.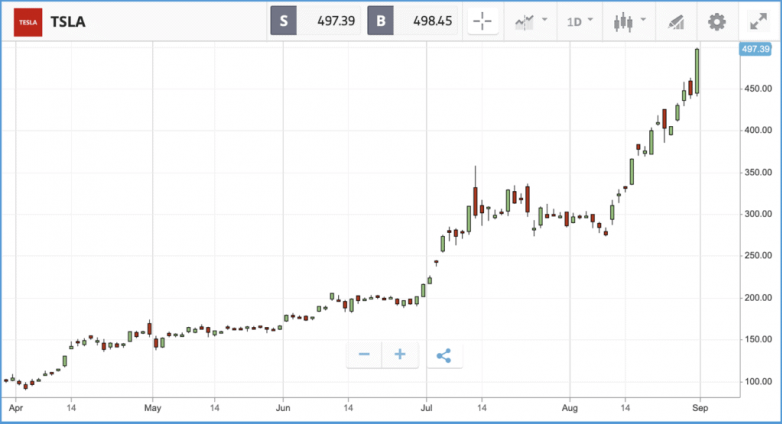 Zoom Video Technologies was another big winner on Monday. Its share price closed 8.6% higher and then jumped by more than 20% in out-of-hours trading following a blockbuster earnings release in which it reported revenue had more than quadrupled from last year.
In weekend news, late on Friday, China's Ministry of Commerce cast doubt over the much-anticipated sale of TikTok's US operations to an American company. Beijing announced new rules that expanded the list of technologies which fall under export controls, adding restrictions on "personalised information recommendation services based on data analysis", according to the Financial Times. Social media sensation TikTok is built around matching up users to content they will enjoy based on analysis of their behavior. Multiple American giants are in the running for the deal, including Microsoft, Walmart and Oracle, but current tensions between the US and China have turned the sale into the latest front in an ongoing trade spat.
Dow Jones Industrial Average briefly goes positive year-to-date
The S&P 500 and Dow Jones Industrial Average started the week in the red after delivering gains of around 3% last week, while the Nasdaq Composite started strong with a 0.7% gain driven by Tesla and Apple.
Monday's result sent the Dow back into negative territory for the year, after it hit a positive return for the year-to-date on Friday. Overall, last week was positive for all three major stock indices, as positive Covid-19 sentiment gave investors confidence. Airline stocks were a beneficiary. United Airlines added 13% during the week, with Delta up 17.3% and American Airlines 11.8%.
In a Friday note, analysts at investment firm Edward Jones noted that the past three months provided evidence that the US economy is gradually exiting recession. "A real-time forecast from the Federal Reserve Bank of Atlanta estimates that Q3 GDP will grow 26%, following a 32% annualized decline in Q2. If this proves to be the case, by the end of September the economy will have recovered half of its pandemic induced losses," they said.
With Q2 earnings season at a close, the final earnings number for S&P 500 companies came in 32% lower than Q2 2019, but 84% of companies beat expectations, per FactSet data cited by T. Rowe Price.
S&P 500: -0.2% Monday, 8.6% YTD ( 3.3% last week)
Dow Jones Industrial Average: -0.8% Monday, -0.4% YTD ( 2.6% last week)
Nasdaq Composite: 0.7% Monday, 31.2% YTD ( 3.4% last week)
Double digit gainers in FTSE 100 despite loss for week
UK markets were closed for the bank holiday on Monday.
The FTSE 100 fell marginally last week, while the FTSE 250 added 1.2%, although there were two FTSE 100 stocks that posted double digit gains for the week. Industrial software firm Aveva added 19.5% driven by a potential acquisition the firm reportedly plans to make, while British Airways parent IAG posted a similar rally to its American counterparts; IAG stock was up 13.5% for the week.
At the other end of the spectrum, no FTSE 100 stock fell by more than 6%, with Rolls Royce, brokerage Hargreaves Lansdown and Just Eat Takeaway.com the biggest losers. In the FTSE 250, Provident Financial and Cineworld Group were the two biggest winners of the week, both due to pandemic trends. Doorstep lender Provident is being boosted by an appetite for loans from higher risk consumers that banks aren't willing to lend to right now, while Cineworld has enjoyed a successful start to the reopening of its US cinema operation.
FTSE 100: -0.6% Friday, -20.9% YTD (-0.6% last week)
FTSE 250: 0.2% Friday, -18.7% YTD ( 1.2% last week)
What to watch
Q2 corporate earnings season has now largely drawn to a close, so major company results will be few and far between until Q3 season kicks into gear. That said, there will still be some names of interest this week, including Docusign and Crowdstrike
US manufacturing data: August's ISM manufacturing index will be reported today. It is a measure of activity in the manufacturing sector, based on a monthly survey of managers at hundreds of firms. A reading over 50 indicates expansion versus the previous month, while below 50 suggests contraction. The report is split into sections focused on new orders, pricing, employment and more. Expectations are for last month's expansion to continue.
US car sales: Also coming today, all of the major US automakers will report their August sales figures, after July numbers that showed sales volume down a fifth versus a year ago, but growing compared to June. Investors will be watching closely for signs of momentum, both in terms of what it means for the auto industry, and the broader implications for economic recovery.
UK house prices: Nationwide will release its August house price index on Wednesday in the UK, which shows both the year-over-year and month-over-month rate of change. Expectations, according to Trading Economics are for a 2% year-over-year figure, versus July's 1.5%.
Crypto corner: Buy health insurance in bitcoins? Now the Swiss can
A Switzerland-based health insurance firm has announced it intends to accept cryptoassets for its premium payments
Major Swiss healthcare insurer Atupri Health Insurance announced at the end of August its intention to partner with major Swiss crypto firm Bitcoin Suisse. Thanks to the partnership some 200,000 customers will be able to pay for their health cover using bitcoin or ethereum. However, the insurance firm won't be receiving any of the cryptoassets itself. Instead its partner Bitcoin Suisse will convert any crypto payments into fiat currency as it is paid out.
Switzerland is recognised as one of the most advanced crypto nations, with adoption rates among the population much higher than other countries. The City of Zug has a reputation as a blockchain hub and is known locally as "Crypto Valley." Swiss municipality Zermatt also recently rolled out tax payment options with cryptoassets via Bitcoin Suisse.
All data, figures & charts are valid as of 01/09/2020. All trading carries risk. Only risk capital you can afford to lose.