US futures higher as Trump reignites war of words with China
US stocks point to a firmer opening today as trading resumes after the country's Bank Holiday, even as President Trump said he wants to scale back the US' economic ties with China.
Fighting an election battle but still finding time to target China once more, Trump's plan includes punitive measures against companies that choose to create jobs overseas.
Trump said his administration will prohibit federal contracts from being awarded to firms that outsource jobs to China and sought to portray rival candidate Joe Biden as a doormat for the world's second largest economy. For his part, Biden accused Trump of only toughening his stance on China after failing to contain the Covid-19 outbreak in the US. Trump's continued anti-China posturing poses a threat to the share prices of American firms that rely heavily on China as part of their supply chain, although some suppliers have already begun shifting operations to other emerging economies. Companies that sell technology products to China which the administration deems as sensitive to national security could also lose out; that situation has already reared its head with the ban on US suppliers selling to Chinese tech giant Huawei.
Boeing faces FAA probe into production issues
Despite being closed yesterday due to a public holiday, there was still a ream of corporate news from the US. Verizon made headlines after awarding a $6.6bn contract to supply 5G network equipment to Samsung, as it faces off with newly combined T-Mobile and Sprint to carve out a slice of the nascent 5G market. Elsewhere, Boeing may be facing another setback after it was reported that production issues with its 787 Dreamliner have prompted a review by the Federal Aviation Administration into quality control problems that could stretch back a decade. According to CNBC, citing an internal government memo, Boeing told the regulator that it had produced parts that did not meet its own standards, and almost 1,000 Dreamliners may now require enhanced inspections.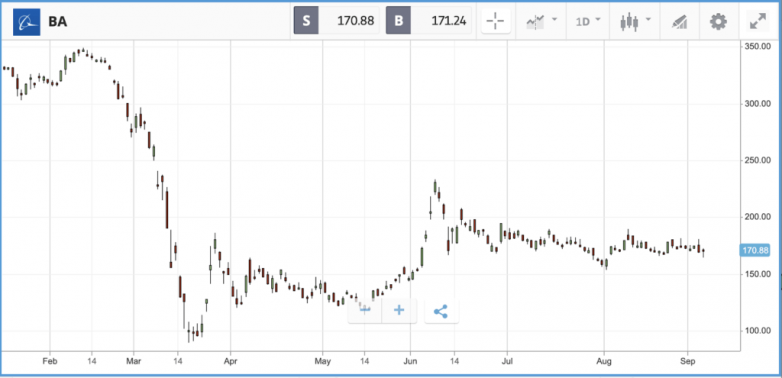 Last up, Volkswagen CEO Herbert Deiss poured cold water on swirling rumours that his firm has been in talks about a potential sale to Tesla. Deiss said that Tesla CEO Elon Musk had visited the firm to test one of its electric cars
No deal Brexit possibility sinks pound, boosting stocks
London-listed stocks rallied yesterday as the pound sank, after Prime Minister Boris Johnson said that the UK will walk away from Brexit negotiations if a deal is not reached by mid-October. Talks with European Union officials are set to continue this week. The pound fell from around the $1.33 mark down to $1.31 following the news; it started the month at $1.35. Only three names in the FTSE 100 were in the red on Monday, with the index up 2.4% overall. British Airways parent International Consolidated Airlines Group sank 4.7%, ahead of CEO Willie Walsh handing over the top seat to Iberia CEO Luis Gallego yesterday. At the top of the index, last week's biggest gainer Melrose Industries continued to lead the way, closing out Monday 5.8% higher.
The FTSE 250 added 1.7% on Monday, led by public transport operator FirstGroup, which jumped by 27% after reports that a host of buyers are interested in its US operation.
FTSE 100: 2.4% Monday, -21.3% YTD
FTSE 250: 1.7% Monday, -19.4% YTD
What to watch
Lululemon: High-end athleisure wear maker Lululemon has returned 56% year-to-date. Despite widespread store closures due to the pandemic, investors are optimistic that mass working from home will spur demand for casual clothing. The firm has also successfully handled the transition to focusing online, and in Q1 it saw sales drop far less dramatically than rivals such as Nike. Lululemon reports Q2 earnings today, with Wall Street analysts anticipating an earnings per share figure of $0.56. Currently, 21 analysts rate the stock as a buy or overweight, 14 as a hold, and one as a sell.
Slack: Communications tech firm Slack provides instant messaging, video call and other functionality to businesses. Its share price has not enjoyed the mammoth run-up of video conferencing platform Zoom, but has added a handy 29.3% year-to-date, as its services enable remote working. The firm is up against steep competition from the likes of Microsoft Teams, but added 90,000 net new organisations and 12,000 net new paid client companies in Q1. Whether the firm can continue that momentum in the face of a huge marketing push by Microsoft will be a key point to watch on Slack's Q2 earnings call today.
Coupa Software: Coupa Software's share price has almost doubled in 2020, following a similar feat in 2019. Its cloud-based business spend management software helps companies keep track of and manage expenditure, and The Motley Fool noted that its service has been mentioned during earnings calls by several of its clients. The firm's software lets companies handle payments, invoicing and more remotely, which has positioned it to take advantage of the pandemic environment. Coupa has beaten earnings expectations by a wide margin in the past four quarters and is one to watch when it reports Q2 earnings today at the US market close.
Crypto corner: Cryptoasset derivative trading sets new record in August
Trading volumes for cryptoasset derivatives rebounded to record levels in August amid bitcoin's rally to $12,000, a new report has said.
CryptoCompare said derivative volumes rose 54% to more than $710 billion in August in its monthly exchange review, setting a new all-time high. August's figures were well up on the $602 billion monthly volumes reported in May. Spot markets also experienced a surge in activity, with August trading volumes coming to $820 billion – nearly $400 billion up from July's numbers.
September has so far seen the price of bitcoin come under pressure, falling some 15% from its peak at the start of the month near $12,000. This morning it was trading at $10,230.
All data, figures & charts are valid as of 08/09/2020. All trading carries risk. Only risk capital you can afford to lose.