Apple stock falls flat after raft of product announcements
An announcement by Apple, the world's largest listed company by market cap, which flagged several product developments, failed to excite investors overnight.
The company, which is worth more than $2trn despite its recent retreat from record highs, revealed a new iPad Air, generation 6 Apple Watch and pricing for new subscriptions bundles that wrap together services such as Apple TV, iCloud and Apple Music. The products were met with a muted response from investors, with Apple stock closing the day close to flat having started the day almost 3% higher versus Monday's closing price.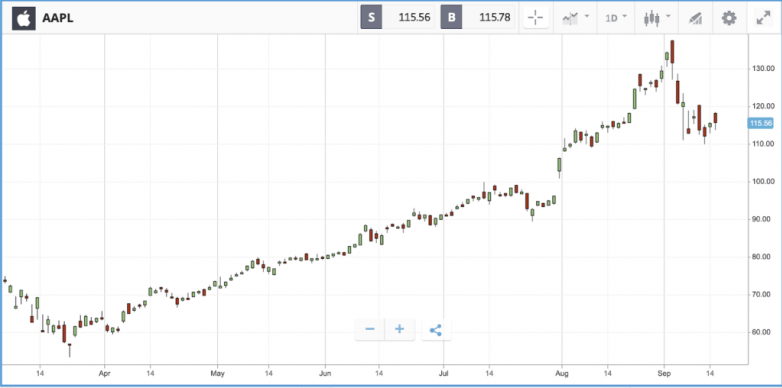 In other headlines, more details of Oracle's deal with TikTok emerged. In an effort to meet the demands of the White House, TikTok's US business will become a new US-headquartered company. Oracle will be a minority shareholder, with ByteDance still retaining control, the Financial Times reported, citing people briefed on a plan presented to US officials. Oracle stock has jumped 10.2% over the past five trading days as the deal has progressed.
Meanwhile in Asia, Japan's new prime minister Yoshihide Suga was duly elected by politicians, replacing his predecessor Shinzo Abe. Japanese markets were flat in reaction, the Nikkei up just 6 points at 23,461, although it remains only marginally off its recent peak.
Cloud firm Snowflake set for biggest IPO of 2020 so far
The Nasdaq Composite continued its rebound on Tuesday, closing 1.2% higher, while the S&P 500 gained 0.5% and the Dow Jones Industrial Average was flat. Financials stocks suffered a rough day, while consumer, communication and technology names led the way. Tesla enjoyed another bumper day, adding 7.2%, taking its five-day gain to 36.2% and its one-month return to 19.2%. Netflix also helped take the index higher, closing 4.1% up, after a new overweight rating from KeyBanc and Apple's new subscription bundle pricing reveal.
In company news, cloud storage and software firm Snowflake completed the biggest IPO of 2020. The firm priced its offering at $120 a share, which values the company at north of $33bn. Per The WSJ, a mass of companies are racing to go public this year, looking to tap growth hungry investors starved of opportunities by the ultra-low interest rate environment.
S&P 500: 0.5% Tuesday, 5.3% YTD
Dow Jones Industrial Average: 0% Tuesday, -1.9% YTD
Nasdaq Composite: 1.2% Tuesday, 24.7% YTD
Ocado leads way after 52% sales jump
London-listed stocks made gains yesterday, with the FTSE 100 closing 1.3% higher, despite official data showing that UK jobs were lost at the highest rate since 2009 in the three months to July. Over the three months, 156,000 people were made redundant in the UK, an increase of 48,000 versus the three months to the end of May. The headline unemployment rate increased to 4.1% from 3.9%, but that figure may escalate sharply when the Government's furlough scheme ends on October 31.
In the FTSE 100, Ocado Group led the way, after announcing a 52% jump in quarterly sales from its Ocado Retail venture with Marks & Spencer, with profits expected to grow this year. The firm reported that customers have responded well to a September 1 switch from Waitrose to M&S produce, and Ocado stock closed the day more than 10% higher. At the other end of the spectrum, cruise firm Carnival sank 6.1% after the firm said it will accelerate the removal of 18 ships from its fleet, representing a substantial uptick in capacity reduction. The firm expects a huge third quarter loss.
FTSE 100: 1.3% Tuesday, -19.1% YTD
FTSE 250: 0.8% Tuesday, -18.6% YTD
What to watch
Next: British high street fashion retailer Next is down 13% year-to-date, although that is substantially ahead of the broader market. The firm delivers its latest set of quarterly earnings today, days after the revelation that it plans to acquire a majority stake in Victoria's Secret's UK business. The firm went into administration in June, and now via a joint venture with parent firm L Brands will acquire the majority of the firm's assets. Ownership will be split 51% in favour of Next, with other deal terms not revealed. The deal will be a significant focus of the firm's earnings call, and investors will also be watching closely for insight into what demand the firm has seen at stores it has been able to reopen with the Covid-19 pandemic ongoing.
Federal Reserve policy meeting: The Federal Reserve (Fed) is updating the market later today, with chair Jerome Powell delivering a speech to reveal the latest views and actions of the world's most watched central bank. The meeting and speech will provide an update on the direction the Fed sees factors such as economic growth and inflation heading in. Investors will be watching closely for any updates in its interest rate stance, and any details of asset buying programs.
All data, figures & charts are valid as of 16/09/2020. All trading carries risk. Only risk capital you can afford to lose.