Trump departs hospital, markets eye stimulus deal
European markets are in the red this morning as a mixed bag of corporate earnings has dampened sentiment after fresh hopes for a new US stimulus package being agreed. The FTSE is down 0.7% while the Dax is faring slightly better, down 0.3%. US futures also are around 0.5% lower heading into the open.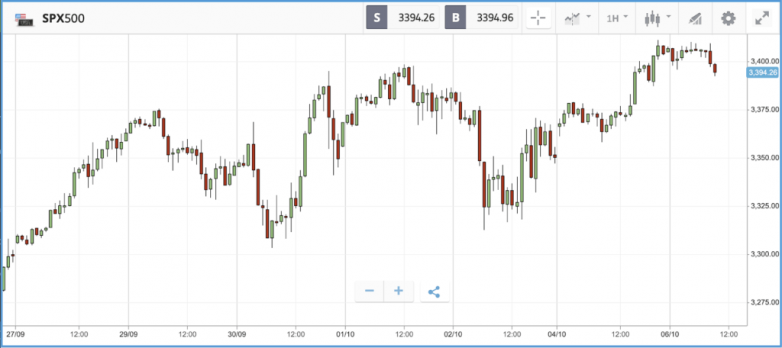 After a tumultuous weekend politically, stocks around the world started the week on a high as President Trump left hospital. Before that, however, he posted a tweet aimed at lawmakers, pushing them to "work together and get it done" on a new stimulus package. Democrats and Republicans remain far apart, however, on the contents of the bill. On Monday, it was reported that Democrat house speaker Nancy Pelosi and Republican treasury secretary Steve Mnuchin spoke for around an hour, but did not come to terms on a deal. At the last count, the parties remained $600bn apart, with key points of contention including the amount of additional unemployment benefits to be paid to job seekers during the pandemic.
News of talks between top-level party officials and the reduction in political uncertainty with the apparent improvement in President Trump's health gave investors confidence, with the S&P 500 up 1.8% and the FTSE 100 gaining 0.7%.
Bristol-Myers Squibb makes $13bn play for heart drug maker
All 11 sectors in the S&P 500 were in the green on Monday, with the energy, information technology and health care sectors all gaining more than 2%. The Nasdaq Composite enjoyed the best day of the three major US stock indices, closing the day 2.3% higher, with chipmakers Advanced Micro Devices, Nvidia and Qualcomm helping take the index higher. In corporate news, pharmaceutical firm Bristol-Myers Squibb announced that it is acquiring heart drug maker MyoKardia for $13.1bn. The deal comes a year after it completed the $90bn takeover of biotech firm Celgene, one of the biggest pharmaceutical deals in history. Bristol-Myers Squibb stock closed the day 0.9% higher. Elsewhere, oil giant ExxonMobil announced plans to cut up to 1,600 jobs in Europe, with the firm saying "significant actions are needed at this time to improve cost competitiveness and to ensure the company manages through these unprecedented conditions." In its press release, Exxon said that the Covid-19 pandemic has "increased the urgency of the ongoing efficiency work."
S&P 500: 1.8% Monday, 5.5% YTD
Dow Jones Industrial Average: 1.7% Monday, -1.4% YTD
Nasdaq Composite: 2.3% Monday, 26.3% YTD
Cineworld stocks slumps after cinema shutdown news
The FTSE 100's positive start to the week was led by embattled airline engine maker Rolls Royce, which gained 8.6% after a downward spiral that has seen its value halved over the past month. The FTSE 250 closed the day 1.1% higher overall, with a dozen names gaining more than 5%. FTSE 250 constituent Cineworld was the most significant mover of the day but its price sank 36.2% after news broke that it is temporarily shutting the 600 US cinemas it operates under the Regal brand. According to The Telegraph, it is the firm's huge debt burden that poses the biggest threat to the firm, as with all its sites close the company has to raise cash fast. Cineworld's share price is now down 88.5% year-to-date, and more than 50% over the past month.
FTSE 100: 0.7% Monday, -21.2% YTD
FTSE 250: 1.1% Monday, -19.7% YTD
What to watch
Paychex: Small business human resource, payroll and benefits outsourcing firm Paychex's share price is close to flat year-to-date, lagging the broader market, as widespread unemployment puts its business model under pressure. The company delivers its latest quarterly earnings update on Tuesday, with Wall Street analysts expecting an earnings per share figure of $0.55 for the $29bn market cap firm. Analysts currently lean heavily towards a hold rating on the stock.
Tesco: Supermarket giant Tesco has suffered a tough 2020, despite a sales bump earlier in the year from consumers stockpiling due to the pandemic. Year-to-date, the firm's share price is down 16.7%, marginally lagging key rivals Sainsbury's and Morrison. However, all three have been trounced by online grocery service Ocado, which is up more than 100% in 2020. Tesco delivers its latest earnings results on Wednesday, which will be the first for new CEO Ken Murphy – who took over the top seat on 1 October. Murphy joined from Walgreens Boots, and had his start delayed as his former employer forced him to adhere to a non-compete agreement, leaving the business in the hands of Dave Lewis during the pandemic.
Levi Strauss: Clothing brand Levi's has fared better than many retailers during the pandemic, with its share price only down 22.2% year-to-date after a 20.9% gain over the past month. While the pandemic has hurt the firm badly due to forced store closures, the firm is using the pandemic as an opportunity to accelerate its investment in e-commerce. Curbside pickup, same-day delivery, and virtual concierge services are among the new capabilities that have been rolled out. Wall Street analysts anticipate a loss of $0.22 per share in the company's Tuesday earnings report, but currently lean towards a buy rating on the stock.
Crypto corner: John McAfee arrested in Spain
Software magnate turned crypto bull John McAfee has been arrested in Spain on charges of tax evasion, it is reported, pending extradition to the US.
The US Department of Justice (DoJ) unsealed a criminal indictment against McAfee on Monday with charges including tax evasion and willful failure to file tax returns, which carry a sentence of up to 30 years in jail. The DoJ alleged McAfee hid cryptoassets, a yacht, real estate and other properties from US tax authorities in order to avoid paying tax for the assets.
McAfee rose to prominence as an early internet security pioneer and software developer. In more recent years he has been known for his highly pro cryptoasset stances and aggressive social media use to promote them.
The arrest comes on the same day that the Securities and Exchange Commission (SEC) announced it was suing McAfee for promoting initial coin offerings (ICOs) while failing to disclose that he was paid to do so. McAfee allegedly received over $11 million in promoted cryptoasset tokens for promoting seven ICOs in 2017 and 2018 through his social media.
Separate to the DoJ charges, the SEC is seeking civil penalties against him and a future ban on serving as a public officer.
All data, figures & charts are valid as of 06/10/2020. All trading carries risk. Only risk capital you can afford to lose