Stimulus hopes fade as Trump ends talks
A day after he posted a tweet encouraging lawmakers to work together to secure a stimulus package, President Trump put an end to ongoing talks between senior Democrats and Republicans who were attempting to hammer out a deal. The abrupt U-turn was a shock to both investors and the political sphere, as it came shortly after Federal Reserve chairman Jerome Powell cautioned there would be severe economic consequences if more support is not provided to the economy. Ten of the S&P 500's 11 sectors slumped into the red after the news, with consumer discretionary stocks hit hardest – as a failure to further support household finances and small businesses could have a major impact on consumer sentiment and spending. Trump said on social media that he has instructed representatives to stop negotiating on a deal until after the Presidential election, and disagreed with Powell's take on the economy.
Much of the potential losses for European markets this morning were offset by some strong earnings reports, in particular the UK's largest supermarket Tesco rising as much as 4%, following their update. Despite an overall fall in profit due to increased costs associated with Covid-19, the firm has almost doubled its online business and hiked its interim dividend.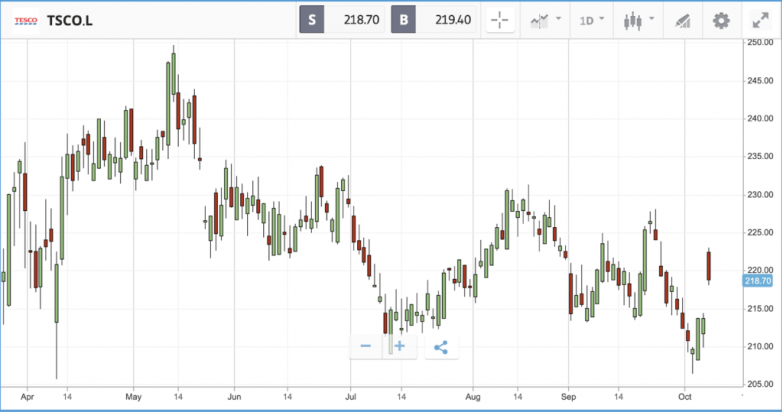 Lawmakers put forward idea of breaking up tech giants
Among the three major US stock indices, the Nasdaq Composite fell hardest in Tuesday afternoon's selloff, closing the day 1.6% down. Names including eBay and video game firm Electronic Arts were among the biggest losers in the index, falling 4.5% and 4.1% respectively. In the S&P 500, which fell by 1.4%, Boeing fell hardest at -6.8%, with energy and airline names among the rest of the bottom 10.
Also making headlines on Tuesday was a 400-plus-page report released on Tuesday by the House of Representatives antitrust subcommittee, which claims that Amazon, Apple, Google and Facebook have abused their marketing power. The report says that the marketing power the firms wield effectively means they control access to markets, letting them pick winners and losers economically. To combat this, the report suggests a rewrite of US antitrust law and forcing companies to restructure, including splitting up business lines. All four firms mentioned above closed the day 2% to 3% lower after the publication came out.
S&P 500: -1.4% Tuesday, 4% YTD
Dow Jones Industrial Average: -1.3% Tuesday, -2.7% YT
Nasdaq Composite: -1.6% Tuesday, 24.3% YTD
Rolls Royce leads aviation rally
London-listed stocks ended Tuesday in the green, as markets closed before President Trump announced his intervention to halt stimulus package talks. Rolls Royce enjoyed the best day in the FTSE100, jumping 21.6% in part of a broader positive rally in the aviation sector. Tui, International Consolidated Airlines Group and easyJet all enjoyed the upswing, adding 9.6%, 3.2% and 8.2% respectively. The FTSE 250 once again outpaced the FTSE 100, expanding its lead year-to-date out to more than two percentage points. A partial rebound in Cineworld's share price after it tumbled on Monday due to cinema closure news helped buoy the index, as did 8% plus gains from Provident Financial and WH Smith. One name holding back the FTSE 100 was online grocery delivery service Ocado Group, which has been one of 2020's success stories but fell back by almost 9% on Tuesday.
FTSE 100: 0.1% Tuesday, -21.1% YTD
FTSE 250: 1.2% Tuesday, -18.7% YTD
What to watch
RPM International: Specialty coatings and building materials firm RPM, which has an $11bn market cap, has gained 9.9% in 2020, including an 11.5% rally in the past five months. That caps off a 2019 which saw the company grow its share price by almost 30%. Today, the company will deliver its latest set of quarterly earnings, where analysts are expecting an earnings per share figure of $1.15, well up on the $0.85 they had anticipated for the quarter three months ago. Currently, Wall Street analysts are split between a buy and a hold rating on the stock.
Hargreaves Lansdown: British brokerage Hargreaves has faced a tough 2020, losing 16.9% from its share price. Aside from the pandemic, the company found itself in the middle of the blowup of star fund manager Neil Woodford, as it played a prominent role in helping to promote his talents. The company delivers its latest earnings figures on Thursday.
FOMC meeting minutes: Federal Reserve chairman Jerome Powell has already made it clear the central bank's viewpoint on the need for more stimulus to support the US economy. The Federal Open Market Committee's latest meeting notes, which will be released at 2pm EST on Wednesday, will shed some more insight into the thinking of the Fed last month. September is when the Fed changed its guidance around inflation tolerance, and investors will be watching out for any additional details there.
Crypto corner: Chinese official reveals central bank digital currency trial results
An official from the Chinese Central Bank has revealed the results of a trial of a central bank digital currency (CBDC) conducted in three Chinese cities, according to Coindesk.
Fan Yifei, deputy governor of the People's Bank of China revealed on a virtual conference call at Sibos 2020 that the CBDC had been rolled out to three cities – Shenzhen, Suzhou and Xiong'an, to test the digital yuan.
Between April and August, 113,300 consumer digital wallets and 8,859 corporate digital wallets were opened in the cities, with RMB1.1 billion ($162 million) processed across 3.1 million digital yuan transactions. The revelation makes this the largest CBDC experiment of its kind yet conducted.
The transactions were used for a variety of purposes: hospitality, government services, retail, transportation and utility payments. The transactions were all recorded via barcodes, facial recognition and tap and go payment tech. In his talk Fan Yifei noted the Central Bank's goal to "protect fiat currency from crypto-assets and safeguard monetary sovereignty."
The trials have extended since August to the cities of Beijing, Hong Kong and Macau, the provinces of Guangdong, Hebei and Tianjin and the Yangtze River Delta region.
All data, figures & charts are valid as of 07/10/2020. All trading carries risk. Only risk capital you can afford to lose