Markets ride Trump stimulus rollercoaster
President Trump threw another U-turn at investors this week, after tweeting that he supports legislation to authorise sending a second batch of $1,200 stimulus checks to Americans. On Wednesday, Trump and his aides also shifted focus to calling for a series of standalone bills, including support for the airline industry, according to The WSJ. That reversed his position from Tuesday, when he posted that he had instructed his representatives to halt negotiations on another round of stimulus until after the election.
His toing and froing on this major issue is causing ructions in markets, and yesterday investors duly reacted to Trump's latest position, with all three major US stock indices climbing by close to 2%.
Stocks were also given a leg up after the Federal Reserve released minutes from its September meeting which stated it would keep rates low "for a longer period" if the economic outlook remained subdued.
Markets look set to continue the momentum this morning, with European markets opening positively and US futures pointing towards gains of around half a percent. Travel is the best performing sector with British Airways parent IAG up 5%.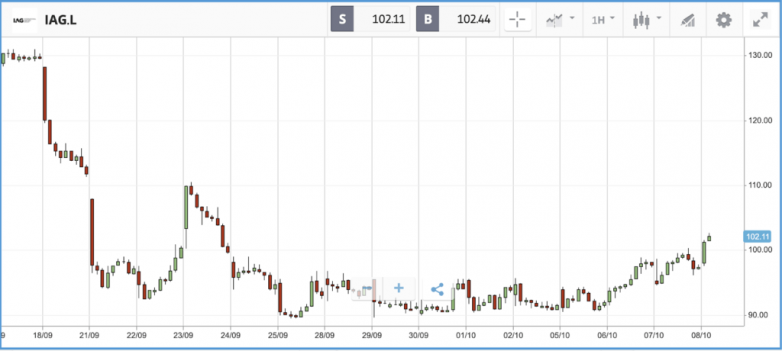 Stocks up across all sectors, with all 30 Dow companies in the green
All 11 sectors in the S&P 500 were in the green yesterday, with the materials, consumer discretionary and industrials sectors leading the way with 2% plus gains. The chance of support for the airline industry buoyed Delta Air Lines, American Airlines and United Airlines, which gained 3.5%, 4.3% and 4.3% respectively, plus further gains in after-hours trading. Netflix also enjoyed a positive day, closing the day 5.7% higher, after an analyst at Pivot Research boosted his price forecast for the firm's stock. The firm's share price is up 65% year-to-date but has only gained 6.3% in the past three months as the tech rally has stuttered recently.
All 30 stocks in the Dow Jones Industrial Average closed out Wednesday higher, with Salesforce and Boeing leading the way, up 3.9% and 3.2% respectively.
S&P 500: 1.7% Wednesday, 5.8% YTD
Dow Jones Industrial Average: 1.9% Wednesday, -0.8% YTD
Nasdaq Composite: 1.9% Wednesday, 26.7% YTD
UK stocks flat, as Tesco reports jump in profits
Both the FTSE 100 and FTSE 250 were flat yesterday, with investors in UK shares not responding as optimistically to the see-saw stimulus news out of America as investors in US shares. In economic news, there were positive signs in the UK property market, as UK house prices posted gains in September despite the Covid-19 tide rising once again.
In the FTSE 100, gains from Rolls Royce, Glencore, Ocado Group and others balanced out against losses from M&G, Relx and Avast.
In the FTSE 250, transport firm FirstGroup led the way, jumping 10.8% after analysts at Citigroup raised their rating from neutral to buy. Elsewhere, Tesco reported a sharp jump in profits despite the costs incurred by the pandemic, driven by consumers stockpiling groceries. The firm's share price initially jumped but fell back to a small loss by the end of the day.
FTSE 100: -0.1% Wednesday, -21.2% YTD
FTSE 250: 0% Wednesday, -18.7% YTD
What to watch
Dominos Pizza: One beneficiary of the pandemic has been Domino's Pizza, which has added almost 50% to its share price in 2020 as consumers have favoured delivery services over restaurants and bars. The firm has outpaced rival Papa John's, which is up 30% year-to-date. A key point to watch in Domino's Thursday earnings report will be how the company is coping competition wise as a host of restaurants turn to online delivery to survive the pandemic. Currently, 17 Wall Street analysts rate the stock as a buy or overweight, 10 as a hold, and one as underweight.
Initial jobless claims: Investors will be watching Thursday's initial weekly jobless claims figure closely in the US for signs of progress versus recent stagnation. From the end of July to the end of August, the rate of new initial unemployment claims declined from 1.4 million a week to under one million, where it has stayed. For the past five weeks the number has come in at less than one million, but has remained stubbornly above 800,000, showing a slowing in the progress of the recovery of the US labour market.
Crypto corner: Car manufacturing giants push for decentralised charging network
A group containing some of the world's largest car manufacturers has launched a global standard for integrating blockchain technology into a decentralised vehicle charging network.
The Mobility Open Blockchain Initiative (MOBI), through a working group which is co-chaired by car manufacturing giants Honda and General Motors (GM), has laid the foundations for decentralised charging networks that better utilise excess green energy. They have created plans that include detailing systems for "vehicle-to-grid-integration," "tokenized carbon credits," and "peer-to-peer applications."
The storage of excess energy generated by wind or solar is a big problem for the renewable energy industry as batteries are expensive. But electric vehicles already have significant storage capacity, meaning plugging them in to grids can help them store some of the excess, with blockchain technology allowing the transactions to be recorded.
MOBI founder and COO, Tram Vo, reportedly said: "Electric vehicles, chargers, and electricity producers can have a secure identity, communicate with a standard messaging format, and automatically record transactions such as charging, generation, and exchange on a distributed ledger."
Distributed ledger technology firms Accenture, IBM, the IOTA Foundation, and R3 are also members of the group.
All data, figures & charts are valid as of 08/10/2020. All trading carries risk. Only risk capital you can afford to lose